Roma Williams
Licensed Marriage and Family Therapist / AAMFT Approved Supervisor (In Training)
Licensed in Texas, California, Georgia, and Florida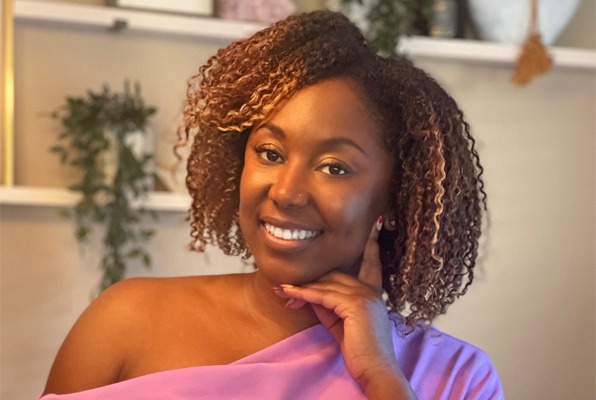 "Before every session, I take a moment to remember my humanity. There is no experience that this man has that I cannot share with him, no fear that I cannot understand, no suffering that I cannot care about, because I too am human.
No matter how deep his wound, he does not need to be ashamed in front of me. I too am vulnerable. And because of this, I am enough. Whatever his story, he no longer needs to be alone with it. This is what will allow his healing to begin."
-Carl Rogers
WHO I AM
You may have came to this page because the love that you once experience is now overshadowed by criticism, arguments, and unhappiness and your aren't sure what to do now, or you know that you want to fight for your relationship. I got you both!  Or maybe, you are ready to deal with trauma that has affected you and your relationships, or finally shed the "I'm the strong one who shows up for everyone" and start showing up for yourself. I got you too! 
I show up for my clients like I show up for my loved ones: I give them what I have, and I'm very loyal to them and what they need from me. In other words: I'll ride with you through your journey. My aim is to support my clients in ways they may or may not have experienced due to the their attachment styles. 
I want you to know it's ok to not have it all figured out all the time, and even be wrong at times. And even in the times where you feel badly about our current state of life and relationships, you can still show yourself grace, I know I will! It is my joy and honor to share my clients journey with them. 
My aim is to put reality based, tangible insights behind the therapeutic interventions that I will do in session. that way you understand you better, and maybe even the science behind why you do what you do, (if you care). The work that I do, doesn't work without your openness and willingness to try to do things differently. Change is hard, we sometimes go through a few stages before taking action and I take that into consideration in sessions. As I celebrate your wins and motivation to try, I will push and guide you to the goals that you have set for your life and relationships.
My Bio
Designing her licensed services on a foundation of integrity, Roma Williams is a renowned marriage, mental health, and family therapist who aims to support others in living the quality-rich lives they deserve. As the Founder and Clinical Director at Unload It Therapy, Roma features an extensive background involving the intricacies of burnout control, emotional regulation, tailored crisis/trauma management, and disjointed relationship support, and enjoys leveraging that dynamicity to continuously help her clients achieve new levels of personal/professional success.
Driven by humanist solid values and a moral compass, Roma has built a large inventory of experiences that have inspired her to become a multi-state licensed therapist (licensed in Texas, California, Georgia, and Florida). Part of that stems from growing up within a dynamic family environment where she had the opportunity to witness the roots of meaningful relationships, and the other from her instilled dedication to helping high-profile professionals cultivate balanced lives filled with purpose, passion, and fulfillment. With this as her base, Roma left her hometown of Vallejo, CA to earn a Bachelor's degree in Psychology from Clark Atlanta University and later complete her Master's in Family Therapy from Mercer University School of Medicine.
Along with her education baselines, Roma proactively supervises MFT student therapists, performed as a trained Emotionally-Focused therapist, and an EMDR clinician in training, worked towards achieving her Texas and AAMFT Approved Supervised status and is currently working on her Ph.D. in Family Therapy with emphasis on Couples therapy and Supervision. She has also worked heavily with at-risk children, addiction, adults with severe mental illnesses and has since tapped into supporting adults on navigating complex relationships along with offering exceptional insights for c-level professionals to improve their work/life balance. Now being the Founder and Clinical Director at Unload It Therapy, Roma has dedicated herself to bolstering life quality regardless of the circumstances and proving that everyone has an internal ability to overcome life's most challenging hurdles and ultimately thrive on the other side of them. She has been featured in Essence, Bustle, PsychCentral, and others. 
As a systemic professional fueled by accentuating the human experience, Roma has a genuine ardency for helping her others foster healthy mindset shifts and guiding them towards transforming their life objectives into sustainable, tangible realities. Roma demonstrates this commitment by delivering compassionate, strategy-based approaches proven to rejuvenate marriages, foster personal growth, and support elite work-life alignments that solidify successful futures. This, in conjunction with her instilled empathic nature and multi-angled adroitness, is what shaped Roma into the endorsed therapist she is today – one who is respected for capitalizing on strengths and surfacing newfound self-awareness that effectively positions her clients to excel as individuals, life partners, and professionals.
Roma consistently partakes in ongoing advanced clinical training, values the DEI movement, and is committed to offering her clients concierge guidance within a safe, confidential, and comfortable environment that enables them to unlock their innate potential. However, when she is not working, you can often find Roma staying active, traveling, being an avid wine taster, and spending time with her family in California.